Meet Dr. Mark Plotnikoff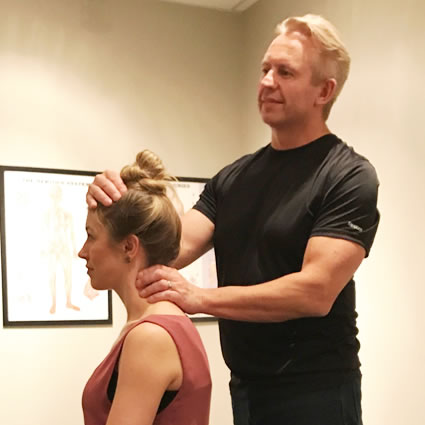 In practice since 1994, Dr. Plotnikoff has used the chiropractic adjustment on millions of spines and seen remarkable corrections to one's health over time.
As a chiropractor, this is the most fulfilling part – the changing of lives, through the touch of my hands upon the spine. Helping people to experience their body's true potential is exciting.
Treating the Whole Person
Your body is meant to move properly, be healthy and free of pain and symptoms. As a complex machine, it needs all systems working together for maximum optimal function. Our clinic treats the whole individual by looking at the entire person with a focus on physical, emotional and chemical stressors. We seek to identify what the problem is, establish a working diagnosis and formulate a treatment plan for your specific needs to allow your body to create healthy function.
Education and Associations
Dr. Plotnikoff began his pre-chiropractic education at Selkirk College before earning his Doctor of Chiropractic from Western States Chiropractic College (WSCC) in Portland, Oregon in 1994. He also maintains a minimum of 24 hours per year of continued education hours, as it's mandatory according to the College of Chiropractors of Alberta guidelines. He also belongs to
Alberta College of Chiropractors
Canadian Chiropractic Association
Canadian Chiropractic Protective Association
Taking a Multidisciplinary Approach to Care
In addition to chiropractic care, Center For Healthy Living offers physiotherapy, massage, acupuncture, pedorthic services (custom orthotics and shoes) and naturopathic therapies. We treat various muscle, bone and nerve-related disorders, acute and chronic issues, as well as foot, nutritional, dietary, hormonal and metabolic functional problems.
EXPLORE CHIROPRACTIC
Changing People's Lives
I believe we are on this earth to serve!
Over his decades in practice, Dr. Plotnikoff has employed a diverse array of chiropractic techniques to adjust millions of spines and has seen remarkable improvements in his patients' health over time. "Those patients that have been under my care have expressed many thanks over the years for how chiropractic has changed their lives. As a chiropractor, this is the most fulfilling part – the improving of lives, through the touch of my hands on the spine. Helping people to experience their body's true potential is exciting."
Helping High-profile & Amateur Athletes
"I have worked with hockey players and their families from the NHL (Calgary Flames, Florida Panthers, Detroit Red Wings, LA Kings, Vancouver Canucks, Edmonton Oilers and Philadelphia Flyers), and the WHL -Calgary Hitmen, Kootenay Ice and Red Deer Rebels. Additionally, I've cared for professional wrestlers from the WWE, as well as PGA and LPGA athletes."
Dr. Plotnikoff has also provided care for amateur and Olympic athletes in luge, bobsled, skiing, track, gymnastics, baseball and football. "My list of patients extends into the USA and other countries, Europe and the Middle East."
Enjoying an Active Family Life
Dr. Plotnikoff has been married since 2002 to his wife Robyn who is an Ultrasound Sonographer with Beam Interventional & Diagnostic Radiology. They have three beautiful and talented daughters: Madelyn, Reese and Blaire." Dr. Plotnikoff has been involved in many different sports. His long time love and involvement has been hockey.
Discover how great you can feel with natural chiropractic care. Contact us today to book an appointment!

Dr. Mark Plotnikoff | (403) 769-0093