Laser Therapy in Calgary SW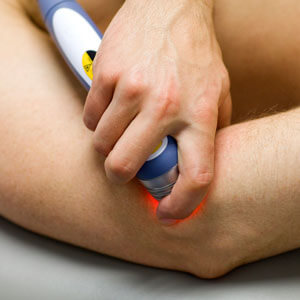 Have you been putting up with nagging pain that makes performing everyday tasks difficult? We can help with theraLASE® for Healing at the Speed of Light®. This state-of-the-art laser is noninvasive, painless, safe and effective!
The laser uses biofeedback technology which is designed to help practitioners assess the area that might be injured. It does so by collecting data from the tissue, so it's looking for inflammation or pain associated with the injury. It will create a treatment plan for Dr. Plotnikoff regarding the time per cycle and dosage of the wavelengths.
How Does It Work?
The laser works by supplying the body with billions of photons of light at highly specific wavelengths. The body absorbs the laser light on a cellular level and transforms it into chemical energy that the body can use to repair its tissue.
A bio-stimulating effect results from the laser that causes a decrease in pain and inflammation associated with an injury. It also helps increase tissue regeneration and accelerates healing time quicker than the traditional use of ice and other forms of treatment available to practitioners.
There are over 80 clinically proven pre-programmed treatments in this system that deal with any kind of joint pain such as shoulder pain or arthritic pain, that might be contraindicated to chiropractic adjustments. This laser can help with the following conditions and many more:

Diabetic neuropathy
Elbow pain
Hip pain
Migraines
Plantar fasciitis
Sprains/strains
Tennis elbow

The primary contraindication associated with theraLASE is that a person has to be cancer-free for five years before you can perform laser on them.
We've helped many athletes with acute injuries such as ankle sprains. For example, in about four sessions, one patient's inflammation decreased quite rapidly. We also have helped patients with grade 1 or grade 2 MCL sprains of the knee that responded very well to laser therapy. Some of our senior patients who had severe arthritic back challenges noticed a significant improvement in their low back and hip pain.
Because every patient is different, treatment times can vary. They can be as short as 2 minutes to as long as 20 minutes depending on the patient's condition. Acute injuries typically take from 1-8 sessions. As the treatments progress, the patient will notice change rather rapidly.
With a chronic injury, a patient may immediately feel a difference. Chronic injuries can take 10-20 sessions.
Save With Our Package Program
We offer a package program to save you money. When you purchase five treatment sessions, you get one free. You can choose to pay up front. If we determine that you have a chronic issue that requires a lengthier treatment time, we also offer a package that gives you one free session when you purchase 10.
Book a Consultation
For more information about theraLASE, please see their website. If you would like to find out if this cutting-edge laser therapy is right for you, book a consultation at Center For Healthy Living today!
BOOK APPOINTMENT

Laser Therapy in Calgary SW AB | (403) 769-0093