Center For Healthy Living Reviews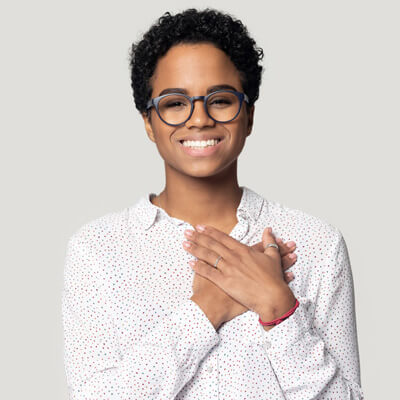 What Our Calgary SW Patients Say
At Center For Healthy Living we love when patients share with us their feedback and comments after chiropractic care. Please read our patient testimonials below to see what other people have achieved through their tailored treatment plans with us.
Share your stories too! Click here to send us your feedback so that we can help to spread the word about the benefits of natural Center For Healthy Living care.
For more information, or to schedule an appointment contact us today.


I was blown away at the difference it made after just one Graston treatment
It had been months since the pain started and I experienced what was almost an overnight change!
After the second treatment, again, I was completely shocked. The laser was an added bonus.
Dr. Mark is so knowledgeable and I appreciate his plan of attack to help get me through this!
Jennifer U.
Improvement After the First Visit
After Dr Plotnikoff listened about my neck issue and without me telling him my additional worries, he elaborated on the diagnostics. Helping me to understand that my neck problem had a solution and that he can give me treatment. From the first visit I had improvement. I already have my second appointment and I feel really thankful to him. In summary he is excellent!
Hugo M.
Dr. Mark Is An Excellent Practitioner
Fantastic experience! Dr. Mark is an excellent practitioner. He explained what was going wrong with my body and set out a treatment plan that has really given me optimism that I will get my back struggles resolved.
Wayne C.
Extremely Thorough and Professional
Mark was extremely thorough, professional and able to assess my needs in a clinical and caring way. He discussed appropriate treatment and answered all my questions and queries. Very personal as all the staff are- highly recommended!
Tim W.
You Helped Me Understand the True Benefits of Chiropractic
I just wanted to say thanks once again for the treatment you and the Center For Healthy Living team have done for me. When I came in back in March with a pinched nerve and aptly named ridiculopathic pain, you were able to see me at a moments notice and along with a program of Massage, Chiropractic and Physio, I am now back to normal.
I want to thank you so much for the care and attention you gave me. Although somewhat wary of Chiropractic treatment in the beginning, you helped me understand the benefits. I will be very happy to recommend you and your practice going forward.
Simon B.
Great Results from Chiropractic Care
Dr. Mark and his team have achieved better and greater sustainable results in 3 months than other healthcare professionals have been able to achieve over the span of years. I'm now feeling in control of my health and my pain for the first time in at least 2 decades. I can't say enough about the outstanding level of care I'm receiving from the amazing team here at the Center For Healthy Living!
Shannon L.
Group of Professionals to Help You all Under One Roof
Dr. Mark Plotnikoff is a highly skilled Chiropractor that comes highly recommended! He has an exceptional team of massage therapists, physiotherapists, and foot specialists. I struggled with chronic low back pain and Dr. Mark noticed how my feet pronate excessively. After being referred to Rob Sunderland, clinic Pedorthist, and I had Orthotics made my back pain went away. I feel awesome today thanks to these professionals! You guys are awesome!
D. W.
Dr. Mark Plotnikoff Gets Results
The passion demonstrated by this Chiropractor to help you understand your body, the nervous system, and what your symptoms mean is above others I have seen! He gets results, excellent staff, and has a team of top notch therapists that beat any clinic I have ever been too!!! Highly recommended!
Tom
Flexible Scheduling
Dr. Mark and his staff are always willing to fit me in (I'm a last minute kind of gal). Everyone is friendly and helpful, and Dr. Mark is amazing!
Anonymous
I Drive an Hour to see Dr. Mark
Dr. Mark is the best…never have I been as pleased as I am with the results I get from the treatment he gives. He has never upsold me, this is so special when I hear of what takes place in other clinics. I live about an hour away pass many clinics on the way, but would never consider going elsewhere.
Edgar
Professional, Caring Staff Helps with Quick Recovery
Very professional, clean and up-to-date clinic. Staff exceptional, go out of their way to make you comfortable. Dr. Plotnikoff is very professional and knowledgeable about the spine, the extremities, and especially soft tissue injuries. He has helped me recover quicker than any other profession. Recommend this clinic, thanks for all your help!
Donald
Chiropractic Helps With Your Injuries
Amazing Chiropractor, intuitive and extremely knowledgeable. Of all the Doctors I have seen for my injuries and aches/pains Dr. Plotnikoff is the best! Great at diagnosing health problems, passionate about "education" making you understand why your in pain. What makes him stand out from the rest of the Chiropractors is his ability to take you from being in pain to being pain-free in a short period of time! If your suffering in any way I highly recommend seeing this Doctor!!!
Rebecca
Knowledgeable Staff
Beautiful, professional, up to date clinic, offering many health services, caring staff that make you welcome! Dr. Plotnikoff is very innovative and extremely knowledgeable on how to fix your health problems. Of all the Doctors I have been to no one has made more of an impact on my health than Dr. Plotnikoff. A must consultation if you value your health!!! Follow this man's advise for complete wellness.
Cameron
Honest Chiropractor
Dr. Mark is fantastic. He didn't try to upsell me into Orthotics. He was honest and upfront about my problems and gave me advice on how my day-to-day activities could be adjusted to help.
Ralph
Chiropractor Who Helps His Patients Understand
Excellent Chiropractor, took the time to explain my problem so that I could understand it. Have seen other Chiropractors before but don't compare to Dr. Plotnikoff. Does amazing work and I am pain-free now!
Linda
I am Now Pain Free
Absolutely excellent service. Reassess at each appointment. Does anything it takes to help you feel better. Goes the extra mile. Uses up to date technology. Easy to make appointments with. I was seeing another Chiropractor for 6 months and nothing worked until I saw Dr. Plotnikoff. I am now pain free and very thankful for this excellent Chiropractor.
Jonathan

Center For Healthy Living Reviews | (403) 769-0093