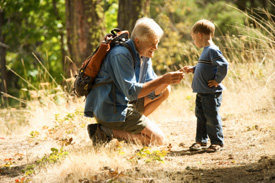 It's official—the birds are chirping, the sun is out and the—back pain has arrived?
With many West Springs Calgary residents gearing up for the warm and active summer months, we at Center For Healthy Living would like to take a few minutes to remind you of the importance of chiropractic care during the season to come.
Warm Weather and Back Pain: What's the Connection?
Did you know that a gentle, often stress-releasing activity like gardening could wreak havoc on your back? We often see an influx of injuries and pain flare-ups during the warmer months due to the fact that people are more active and participating in events like:
Strenuous outdoor exercise
Visiting amusement parks
Travel
Camping / hiking
Yard work
Not only can heightened activity cause injuries, but so does warmer weather itself. In fact, changes in humidity have been linked to increased pain levels. While staying active has its benefits, taking preventative measures and making sure your spinal health is a top priority is very important.
Keeping Your Spine Healthy
To avoid back pain and body injuries, there are a few steps you can take to ensure your health this season, including exercises like low-impact aerobics, swimming (water therapy), biking, staying hydrated and of course, scheduling an appointment with our office.
If you're planning on having an active summer, we hope you'll consider visiting our practice to get your spine and extremities checked, which will help to maintain your health and overall wellness, allowing you to participate in the activities you love this season without experiencing any major issues.
To schedule an appointment, contact our practice today.