Meet Dr. Sarah Thorne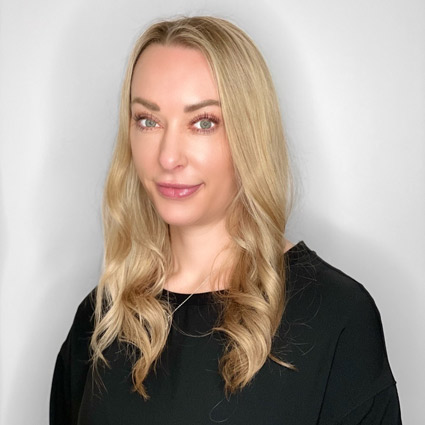 Dr. Sarah Thorne grew up on a ranch SW of Millarville, Alberta where she learned how to ride horses at a young age, leading to competing in equestrian and cattle penning events. She also started playing soccer and competing in gymnastics at a very young age, which lead to the Alberta Summer Games.
She has an interest in nature and sports, having lived in the Yukon, where she spent summers visiting the North West Territories and Alaska; camping, fly fishing and coaching soccer & gymnastics.
Dr. Thorne graduated with her undergraduate degree in Business & Recreation Management Studies from Acadia University in Nova Scotia, where she played varsity soccer and volleyball and dabbling in surfing on those East Coast swells. When she returned to Alberta after graduation, Dr. Thorne began training for the bobsled team in Calgary to maintain a high level of training and continue competitive athletics at an elite level. She went on to compete for Canada as a member of the Canadian National Bobsled team, competing across Europe and North America and attended the Vancouver Olympic Team Trials.
During her bobsled career, Dr. Thorne was on the receiving end of a few crashes and injuries, which lead to her introduction of chiropractic & acupuncture care. Her doctors quickly became an important part of her team, sparking an interest and passion in the pursuit of her future medical career.
EXPLORE CHIROPRACTIC

Education
Dr. Thorne was awarded her Doctor of Chiropractic degree from Toronto's world-renowned Canadian Memorial Chiropractic College in June of 2014 where she simultaneously attended McMaster University to receive her diploma in Contemporary Medical Acupuncture. Dr. Thorne has completed courses in Graston Soft Tissue Mobilization as well as Foundations In Functional Assessment through one of the chiropractors who works with the Toronto Maple Leafs and the Toronto Blue Jays sports teams.
Outside Of The Office
She is passionate about fashion and travel, having recently traveled to Peru, hiking around Machu Picchu and traveling to Vietnam, taking in the sites and culture.
Dr. Sarah lives an active lifestyle; she is passionate about health, wellness, and education and is dedicated to assisting her patients reach their goals. She focuses on tailoring treatments to the specific needs of the individual with a team-based approach and multi-modality approach when needed.

Dr. Sarah Thorne | (403) 769-0093